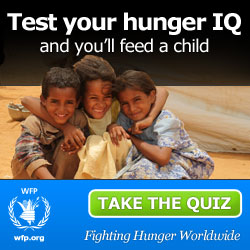 Beauty Aisles
has chosen WFP as our charity focus!
Using our Pay it Forward Program, $1 of each purchase will be donated to the above charity. Simply take the quiz above to help feed a child!
HELP FIGHT HUNGER WORLDWIDE
Join Drew Barry More against the fight
Drew Barrymore recently traveled to Kenya with the World Food Programme. As a WFP Ambassador Against Hunger, she wanted to come back to the country she had grown to love years earlier and see how she could help change the lives of women and children. Read the article in Traveler magazine.
Kenya is now being hit by a devastating drought, and Drew saw firsthand the struggle people face daily to feed their children, to keep their cattle alive, to survive. WFP is currently feeding more than 3 million people in Kenya, but more help is needed. Drew is appealing to the rest of world to join her in supporting the people of Kenya: "We really need to step up our help. There is a catastrophe happening right now."